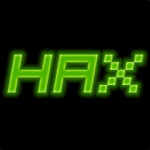 Our first casual game title, Hax, will be released to the Canadian market tomorrow, May 15th.  We're releasing it to the Canadian market first in order to make sure all of our back-end server systems work as they are supposed to before releasing it to the much larger U.S., and then world, market.  The U.S. release has not been scheduled yet, but we have an aggressive schedule, and it will be soon.
Hax has a story, a theme, and original music made by our very own lead developer.  It will also be given regular content updates, which because of our client-server design, can be delivered without a new binary release, or long server downtimes.
The Hax release also marks the debut of our PowerKey login management system, a lightweight and simple account control system that will most likely be used for all our future server-based game releases.
Hax also marks the beginning of Powermad Software's most ambitious journey yet – into the world of games.  We're planning more game releases over the course of the year and beyond; all of which will be innovative, interesting, and entertaining.  Welcome to the Power of Small.